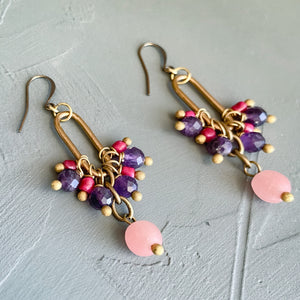 Purple and Fuchsia Crane Earrings (Custom Request)
Made with the origami lover in mind, these paper crane earrings are an Aisha Likes It patron favorite. This seasonal, limited edition, version is new for spring 2022 and a celebration of jewel tones. Filled with richly faceted deep purple amethyst mixed with fuchsia recycled glass. These graceful earrings are significant without being oversized and made with the origami lover in mind.
Earrings Stats: An at-a-glance list of the most important things you need to know when deciding if these earrings are ones you need in your life.
Total length: 3.5 inches
Width at widest: .6 inches
Total Weight: .4 oz
Hook Metal: hypoallergenic brass
Bead/stone/ composition:  amethyst, recycled glass, brass
Bead Origins: US 
Colors: purple, fuchsia, metallic brass
When to wear: Day, After Hours, Evening 
This earrings ship in 2-3 weeks.
Want custom pieces to accompany these? Just say the word. Feel free to email us directly at aishalikesit@gmail.com with questions or special requests. We are happy to work with you!