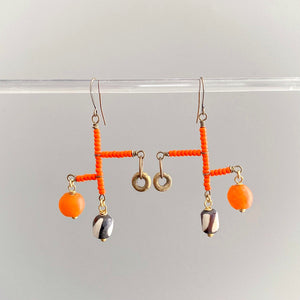 Balancing Act II Earrings: Swirl


Inspired by the balancing act so many of us manage, these structural statement earrings are a testament to the precarious nature of life. Constructed with Japanese seed beads, each earring is counterbalanced with a variety African beads: Nigerian brass rings, Ghanaian recycled glass, and Kenyan batik beads. These earrings are substantial without being heavy or oversized.
Total length: 2.75 inches
Width at widest: 1.5 inches

Total Weight: .15 oz (an American quarter is .2 oz) 

Hook Metal: hypoallergenic brass

Beads/stones/composition: recycled glass, recycled glass, brass, bone 
Bead origin: Japan, Ghana, Nigeria, Kenya, US
Colors: pumpkin, brown, cream, metallic brass.  
Want custom pieces to accompany these? Just say the word. Feel free to email us directly at aishalikesit@gmail.com with questions or special requests. We are happy to work with you!