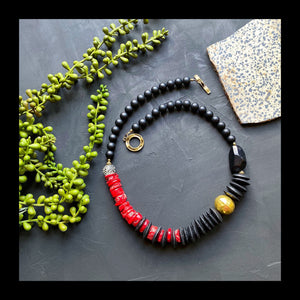 Black and Brass Ashanti Statement Necklace
Classic colors make a dramatic statement in this simple necklace. Crafted with materials from throughout the Diaspora, it will enhance any ensemble.
Necklace Stats: At-a-glance list of the most important things you need to know when deciding if you need this necklace in your life.
Total length: 25 inches 
Width at widest: .65 inches
Clasp Style/Metal: hypoallergenic brass
Beads/stones/composition: recycled glass, bamboo coral, tabular brass, agate
Bead Origins: Ghana, Kenya, US
Colors: black, cherry red, translucent clear, metallic brass
When to wear: Day, Evening, After hours
Want custom pieces to accompany this? Just say the word. Email us at aishalikesit@gmail.com for custom orders or special requests. We are happy to work with you!