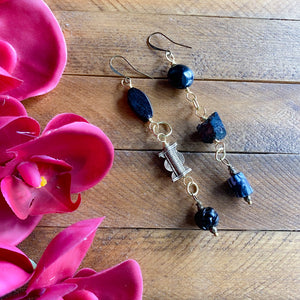 Black Asymmetrical Diva Swing Earrings for C.L.
These earrings are ALL about movement. Long, elegant, asymmetrical, each pair features a unique collection of African beads and gemstones. Each pair is different; no two alike!
Total length: 3.75- 4.25 inches
Width at widest: .5 inch
Total weight: .5 oz
Hook metal: hypoallergenic brass
Bead/stone/ composition: onyx, recycled glass, brass, tourmaline
Bead origins: Ghana, USA
Colors: black, white, brass
When to wear: Day, After Hours, Evening
Ships one week after purchase
Want custom pieces to accompany these? Just say the word. Use the contact form on the site or feel free to email us directly at aishalikesit@gmail.com with questions or special requests. We are happy to work with you!