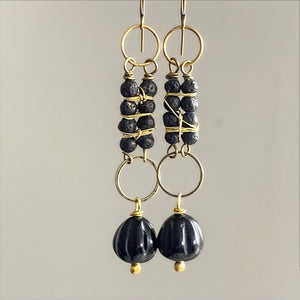 Black Binding Earrings

Inspired by the intricate patterns of adorned and braided hair, these asymmetrical, mismatched earrings are constructed with tiny black lava stones interwoven with golden brass wire. They are finished with carved onyx dangles.
Total length: 2.75 inches
Width at widest: .75 inches

Total Weight: .2 oz (an American quarter is .2 oz) 

Hook Metal: hypoallergenic brass

Beads/stones/composition: lava stone, onyx, brass 
Bead origin: US, Indonesia
Colors: black, metallic brass
Want custom pieces to accompany these? Just say the word. Feel free to email us directly at aishalikesit@gmail.com with questions or special requests. We are happy to work with you!