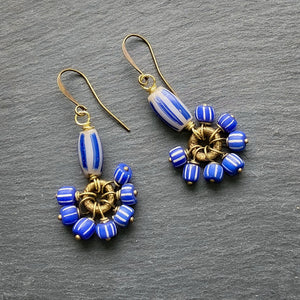 Blue and Grey Antique African Dangle Earrings (Pre-Order)
These petite earrings are made with Dogon donuts from Mali and blue and grey striped Venetian "watermelon" beads. Watermelon beads were made in the 19th century and traded in Ghana (and other African countries). Intact beads do not often surface in American markets and so only a few of these earrings will be available.   In a previous life, these beautiful beads were well used and handled. You may find variances in these earrings such as tiny scratches and dings.  
Earrings Stats: An at-a-glance list of the most important things you need to know when deciding if these earrings are ones you need in your life.
Total length: 2.25 inches
Width at widest: .35 inches
Total Weight: .3 oz
Hook Metal: hypoallergenic brass
Bead/stone/ composition:  recycled glass, brass
Bead Origins: Venice, Ghana, Kenya, US 
Colors: royal blue, navy, grey, white, metallic brass
When to wear: Day, After Hours, Evening 
Ships 7-10 days after purchase 
Want custom pieces to accompany these? Just say the word. Use the contact form on the site or feel free to email us directly at aishalikesit@gmail.com with questions or special requests. We are happy to work with you!