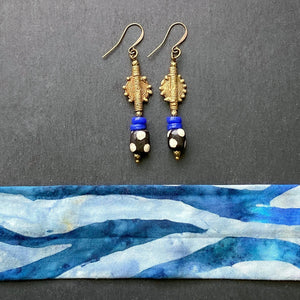 Blue and White Shield Drop Earrings
These blue and white recycled glass earrings are centered with small Ashanti brass beads. Shaped like small shields, they always feel protective. If you'd like a matching set, a bracelet was designed with these earrings in mind.
Earrings Stats: An at-a-glance list of the most important things you need to know when deciding if these earrings are ones you need in your life.

Total length: 2.5 inches
Width at widest: .3 inches
Total Weight: .3 oz
Hook Metal: hypoallergenic brass
Bead/stone/ composition:  recycled glass, batik bone, brass
Bead Origins: Ghana, Kenya, US 
Colors: royal blue, white, brown, metallic brass
When to wear: Day, After Hours
Want custom pieces to accompany these? Just say the word. Use the contact form on the site or feel free to email us directly at aishalikesit@gmail.com with questions or special requests. We are happy to work with you!