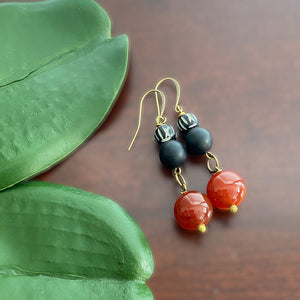 Carnelian Drop Earrings
A little grown up fun for Halloween! The beauties are black and orange all over and constructed with matte agate, juicy carnelian, and carved bone. Wear these to a Halloween party and when it's over, these earrings would easily carry you through you Fall wardrobe.
Earrings Stats: An at-a-glance list of the most important things you need to know when deciding if these earrings are ones you need in your life.
Total length: 2.25 inches
Width at widest: .5 inches
Total Weight: .44 oz
Hook Metal: hypoallergenic brass
Bead/stone/ composition: carnelian, agate, bone brass
Bead Origins: Ghana, US
Colors: orange, black, cream, metallic brass
When to wear: Day, After Hours, Evening