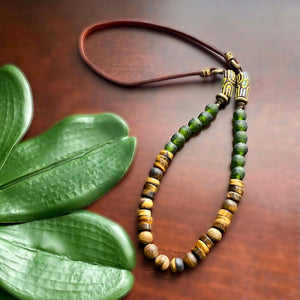 Custom Birthday Necklace
A 26" custom clasp-less, leather necklace with tiger's eye, brass, and Ghanaian recycled glass and Krobo beads. 
Terms:
1) When the necklace is complete, final pictures will be sent for approval.

2) Once approved, buyer is expected to complete purchase within three days.
3) Maker will ship piece within two business days of buyer's completed purchase.
4) Refunds will only be issued in cases where the maker fails to follow the above detailed necklace descriptions. 

Price: 98.00
*Custom pieces are not eligible for discounts or sales.