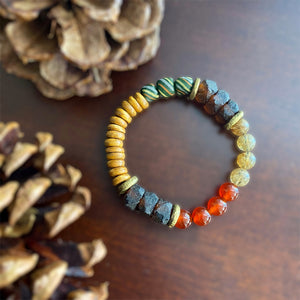 Harvest Gemstone Bracelet
My brain is all about harvest. The weather is cooling down and I am ripe for a bowl of chili, a good book, and a warm fire so I tried to put that all in this bracelet! Constructed with rutilated quartz, carnelian, Ghanaian recycled glass and my favorite Nigerian brass rings, this bracelet has all the warmth of a good harvest.
Bracelet Stats: An at-a-glance list of the most important things you need to know when deciding if you need this bracelet in your life.
Total length: 6.5- 7.25 inches
Width at widest: .5 inches
Clasp Style/Metal: bungee stretch
Beads/stones/composition: rutilated quartz, carnelian, recycled glass, colored jade, wood jasper, brass
Bead Origins: Ghana, Nigeria, US
Colors: green, white, tan, yellow, brown, burnt orange, metallic brass
Most bracelets can be custom sized; leave note at checkout. Resized bracelet take additional time to ship.
Want custom pieces to accompany these? Just say the word. Feel free to email us directly at aishalikesit@gmail.com with questions or special requests. We are happy to work with you!