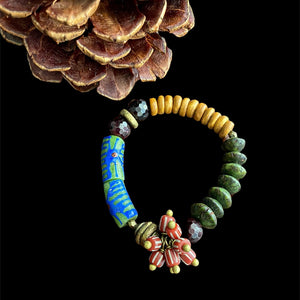 Winter's Abundance African Bracelet
Imagine all you could gather if you went foraging right about now? This bracelet places the abundance style in the forest.  Constructed with faceted garnets, handmade, recycled glass beads from Ghana, java glass from Indonesia, and Salwag beads from the Philippines. This wintry mix of colors makes this easy to wear during the holidays and beyond. 
Bracelet Stats: An at-a-glance list of the most important things you need to know when deciding if you need this necklace in your life.
Total length: 7- 7.75 inches
Clasp Style/Metal: bungee stretch
Beads/stones/composition: recycled glass, garnet, wood, seed, brass 
Bead Origins: Ghana, Nigeria, Indonesia, Philippines. US
Colors:  green, navy, tan, burgundy, metallic brass
When to wear: day, after hours
Most bracelets can be custom sized; leave note at checkout. Resized bracelet take additional time to ship.
Want custom pieces to accompany these? Just say the word. Feel free to email us directly at aishalikesit@gmail.com with questions or special requests. We are happy to work with you!