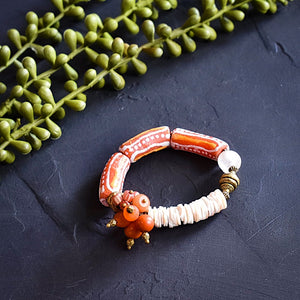 Orange and White Cluster African Bracelet- Reserved for CVF
This cluster bracelet is constructed with handmade, recycled glass beads from Ghana and acai seeds and java beads.  The design and color combination in this bracelet makes you feel like you are wearing summer.
Bracelet Stats: An at-a-glance list of the most important things you need to know when deciding if you need this bracelet in your life.
Total length: 6.75 - 7.25 inches 
Width at widest: .35 inches
Clasp Style/Metal: bungee stretch
Beads/stones/composition: recycled glass, java glass, acai, shell, brass 
Bead Origins: Ghana, Indonesia,  US
Colors:  tangerine, orange, yellow, cream, metallic brass
Earrings sold separately 
Want custom pieces to accompany this? Just say the word. Use the contact form on the site or feel free to email us directly at aishalikesit@gmail.com for custom orders or special requests. We are happy to work with you!