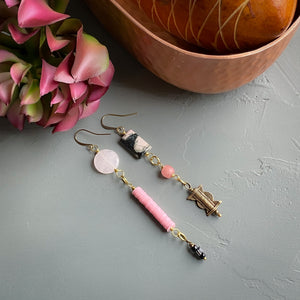 Pink and Black Asymmetrical Diva Swing Earrings
These earrings are ALL about movement. Long, elegant, asymmetrical, each pair features a unique collection of African beads and gemstones. Each pair is different; no two alike!
Total length: 4- 4.75 inches
Width at widest: .65 inch
Total weight: .43 oz
Hook metal: hypoallergenic brass
Bead/stone/ composition: recycled glass, rose quartz, vinyl, rhodonite, brass
Bead origins: Ghana, Kenya, USA
Colors: ballet pink, rose pink, black, brass
When to wear: Day, After Hours, Evening 
Want custom pieces to accompany these? Just say the word. Use the contact form on the site or feel free to email us directly at aishalikesit@gmail.com with questions or special requests. We are happy to work with you!