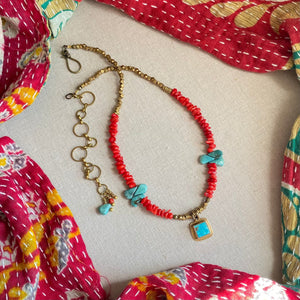 Red Sea Turquoise Necklace 
This delicate one-of-a-kind necklace is one of two in the Seeing Red Collection that celebrates classic southwestern colors. Constructed with what looks like Royston Turquoise and colored bamboo coral, it is finished with faceted brass beads. An adjustable piece, it can worn short at 19.5 inches or longer at 22 inches. 
Necklace Stats: An at-a-glance list of the most important things you need to know when deciding if you need this necklace in your life. 

Total length: 19.5- 22.5 " (Can be made longer upon request)
Clasp Style/Metal: brass clasp
Beads/stones/composition: turquoise, bamboo coral, brass
Bead Origins: Ghana, Ethiopia, USA 
Colors: pale green turquoise, bright red, metallic brass
Want custom pieces to accompany this? Just say the word. Email us at aishalikesit@gmail.com for custom orders or special requests. We are happy to work with you!