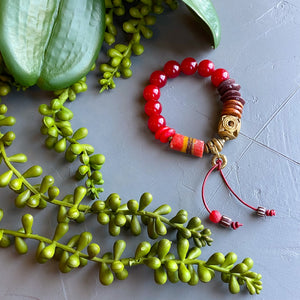 Tethered Red African Bead and Leather Bracelet
Leather tendrils emerge from this bracelet. Designed to remind us of how the binds we choose ground us, this bracelet features bright red agate, leather, and Ghanaian hand-painted recycled glass. 

Bracelet Stats: An At-a-glance list of the most important things you need to know when deciding if you need this necklace in your life.
Total length: 6.75- 9 inches (adjustable)
Width at widest: .5 inches
Beads/stones/composition: agate, recycled glass, wood, leather, tabular brass
Bead Origins: Ghana, Kenya, US
Colors:  blood red, brown, tan, cream, metallic brass
When to wear: Day,  After hours