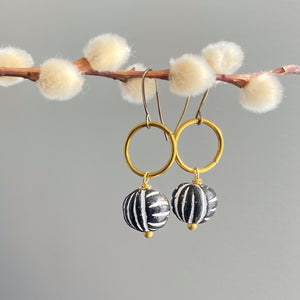 Tribal Dot Earrings
Sleek, understated, terracotta beads give these earrings a minimalist feel. Adding a touch of charm, they delicately sway accentuating the face.
Earrings Stats: An at-a-glance list of the most important things you need to know when deciding if these earrings are ones you need in your life.
Total length: 2.25 inches
Width at widest: .75 inches
Weight: .15 oz
Hook Metal: hypoallergenic brass
Bead/stone/ composition: terracotta, brass 
Bead Origins: Ghana, USA
Colors: black, white,, metallic brass
When to wear: Day, After Hours, Evening
Want custom pieces to accompany these? Just say the word. Feel free to email us directly at aishalikesit@gmail.com with questions or special requests. We are happy to work with you!