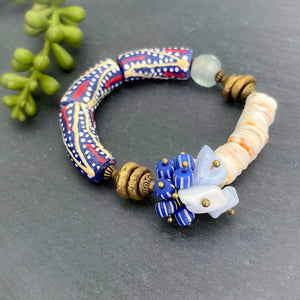 White and Blue Lace Agate Cluster African Bracelet 
This cluster bracelet is constructed with handmade, recycled glass beads from Ghana and blue lace agate, a pale blue stone with translucent white striations.  The design and unconventional color combination in this bracelet, blue  and pink, will set you apart from the crowd. 
Bracelet Stats: An at-a-glance list of the most important things you need to know when deciding if you need this bracelet in your life.
Total length: 6.75- 7.25 inches 
Width at widest: .35 inches
Clasp Style/Metal: bungee stretch
Beads/stones/composition: recycled glass, java glass, shell, chalcedony. brass 
Bead Origins: Ghana, Indonesia,  US
Colors:  pale blue, navy, cream, red, pale pink, cream, metallic brass
When to wear: day, after hourS
Want custom pieces to accompany this? Just say the word. Use the contact form on the site or feel free to email us directly at aishalikesit@gmail.com for custom orders or special requests. We are happy to work with you!